Lessons in Love (18+)[NSFW]
NEW RELEASE: 0.28.0 (Christmas on the Beach)
---
Get Lessons in Love (18+)[NSFW]
Comments
Log in with itch.io to leave a comment.
If i were you, put this amazing game on steam to get it more recognition
Anyone have the completed save files i lost mine after i had to factory reset my computer if so send then to me at brycegetrektscrublord@gmail.com
whenever i try to start the game i get this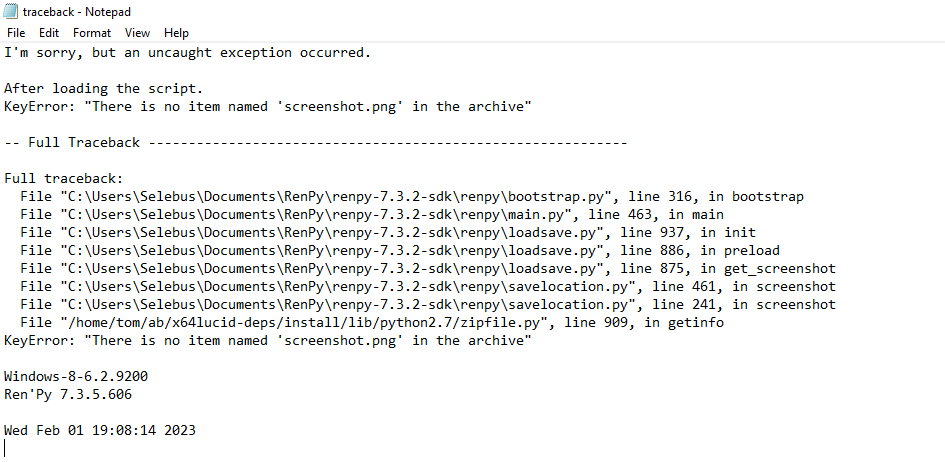 Great game, thanks dev! Sadly i lost my save files after the long grind. Could someone share some save files please? I had way too many hours into it
I'd gladly do it, just type a reply with your email and I'll send it to you in a while
Tho I have to let you know that I am currently up to date with the public version, so you'd have to mess up a little with the saves, which may cause you to spoil yourself in case you haven't yet made it to the latest events

dimiralumnus04@gmx.com

Thx man, you are a literal saint. I was up to date in 0.27.0 so it'll be mostly fine. Thanks again mate.
mate can you send it to me too please f13.tawer@mail.ru much appreciate it
months ago I played this game until part 2 before I can download this again, can we just skip part 1 or I have to do it all over again?
7GB!!! 😭(updating from 0.26.0p2 lol)

i need help with there is nothing event i have everything but it wont activate im missing one of the happy events that are mislabel
I recommend you check that event you'd happen to be missing in the wiki and see the triggering requirements so you will be able to get it. Then you should be able to get There is nothing as well
just wanna say this game is very good and very reputable keep up the good work.