Lessons in Love (18+)[NSFW]
LIL IS BACK! Return to Itch, Patreon Takedown, Early Game Rework, and more!
---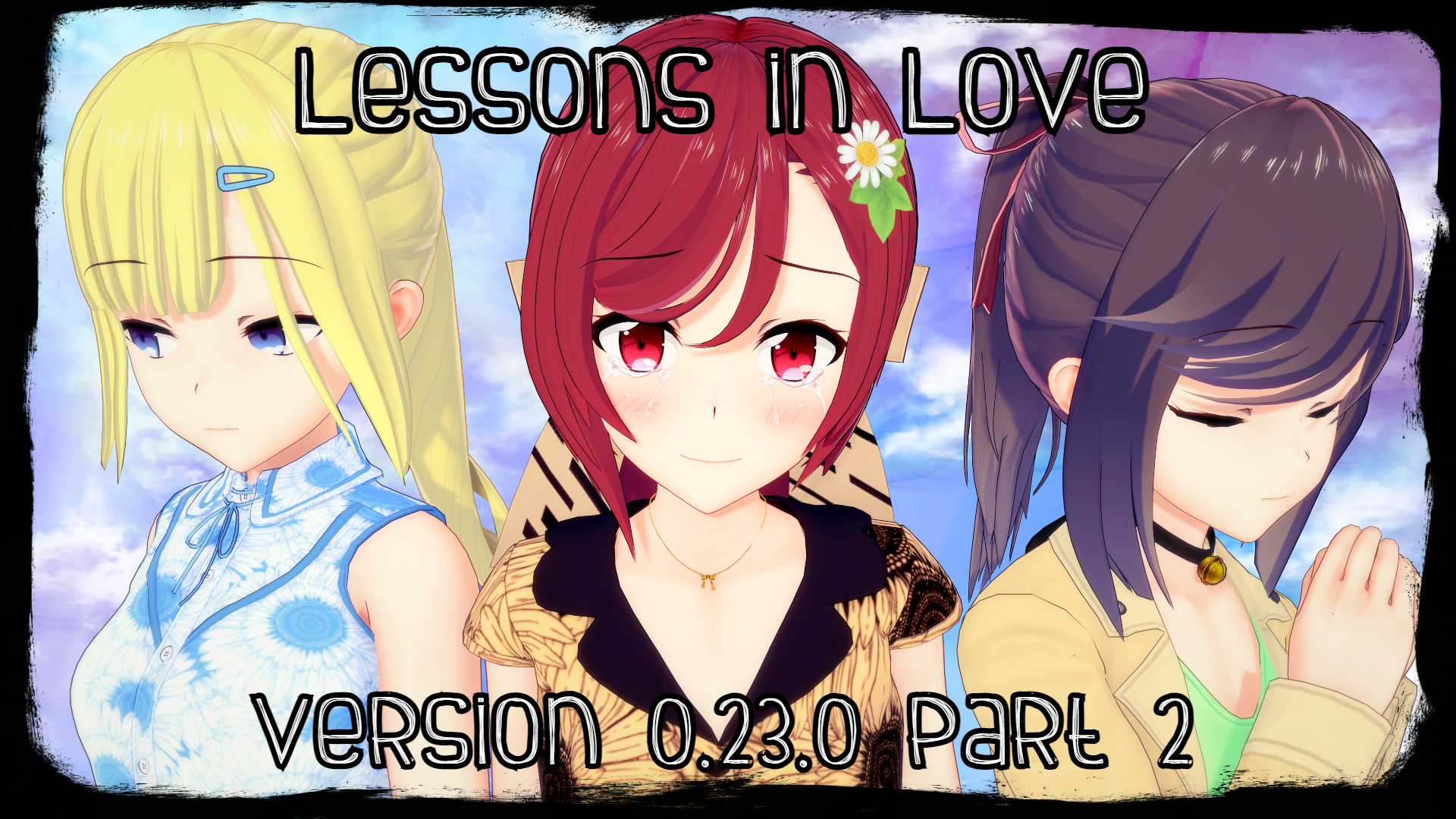 If you've been following Lessons in Love for a while, you'll probably have noticed that the start of 2022 has been a fucking asshole to me.
If you're not one of those people, however, allow me to save you some time by bullet-point recapping the year thus far!
- Patreon demands I make a SFW version of the game so it can remain on the site
- Development is sidetracked by roughly 45 days while I do that
- Game gets restored on Patreon! Hooray!
- Death is a terrifying thing
- Itch locks LiL due to a DMCA claim for the mention of another publisher's title in my game page.
- Immediate fix, but Itch support goes MIA and the game remains on indefinite lock.
- "Hi. It's Patreon again. We changed our minds and don't want you here anymore. Lol."
- 80% of my income is randomly deleted with zero notice three days before I was supposed to get paid.
- (Still don't know what went wrong, but fuck them I guess)
- Business license is suspended for not filing a "No Tax Due" report (Fixed)
- Itch republishes the game
Which brings us to today! The relaunch of Lessons in Love on itch.io, happening in the midst of what will be a huge improvement to the entire first chapter of the game.
0.23.0 Part 2 is the last "real" update until June/July while I rework over 150 events from Chapter 1 to bring the early game's quality up to that of the later game. When I first started making Lessons in Love, I wasn't really sure what direction I wanted to take it in, which resulted in some glaring issues in terms of pacing with some early character arcs. So, in order to make the game more in line with my vision for it, I am fixing all of that.
Your saves will still work and you won't have to replay the game, but I highly urge you to do so after the rework is completed since there will be hours and hours of new content.
BUT SELEBUS, HOW CAN I HELP?
Thank you for asking, mysterious player!
With Patreon being taken down, I now need to focus on restoring my income so I can maintain the same level of quality you've all gotten used to over the last few years. Thankfully, I have an amazing player base who was able to band together and restore almost 70% of it! Unfortunately, however, a lot of those people are one-time mega donors administering a giant shot of morphine into a undebatable staggered revenue stream. In summation, we are not out of the weeds yet and please consider supporting my work if you like what I do!
The new places to do that are SUBSCRIBESTAR or the official MERCH SHOP
SubscribeStar even currently has an exclusive preview of LiL's newest heroine as well as a contest/raffle for things like LiL T-shirts or annual game passes!
All throughout the next two-three months, I'll be posting exclusive previews of the early game rework and distributing test builds to all subscribers!
So please, for the love of all 798798764325 characters in my game, consider lending a hand!
And thank you so much for playing.
- Selebus
Files
Lessons in Love (0.23.0 Part 2)
6 GB
Lessons in Love (0.23.0 Part 2) Mac
6 GB
Get Lessons in Love (18+)[NSFW]